Sign up for the IAOPA Europe Enews
The IAOPA Europe newsletter is sent out approximately every second month keeping you up-to-date about General Aviation in Europe.
Your privacy of course is guaranteed and you can unsubscribe anytime with one click on the unsubscribe link in the newsletter.
All editions of IAOPA Enews 2020
All editions of IAOPA Enews 2019
All editions of IAOPA Enews 2018
All editions of IAOPA Enews 2017
Get the IAOPA Europe Enews directly in your mailbox
Take a look at the upper right corner of this webpage and just enter your email to sign up to receive the IAOPA Europe Enewsletter. Every second month you will then receive our Enewsletter keeping you up-to-date about General Aviation in Europe.
Your privacy of course is guaranteed and you can unsubscribe anytime with one click on the unsubscribe link in the newsletter.
EASA Guidelines on COVID-19
In its effort to support the "Return to Normal Operations" for GA EASA has issued some recommended guidelines for best practice during the COVID19 pandemic situation. The guidelines have been created in cooperation with IAOPA and a number of GA organizations. It is in a poster-format so it would be easy to print and post in your local aerodrome or aeroclub.
It is intended to be used as a best practice where it can support a return to normal operations. Fortunately GA in many countries is already back to normal operations and many restrictions have been lifted around Europe as COVID19 has been suppressed. In such cases the real value of the guidelines will primarily be if we should see a second wave of the pandemic and some countries would again contemplate imposing new restrictions on GA.
Download the poster as a PDF here
15 Percent Discount on most Jeppesen products and services for AOPA members in Europe
Thanks to a recent agreement between Jeppesen and IAOPA Europe, members of all European AOPAs can now take advantage of a 15% discount on several of Jeppesen's most popular products and services (both initial subscriptions and renewals):
· Paper Charts
· Electronic Charts
· iPad Apps
· Jeppesen databases (Garmin 430/530, GTN series, Garmin 1000 etc)
· EASA Training Products
Members in the following countries can already now contact Jeppesen directly to take advantage of the offer using their AOPA membership number: Cyprus, Denmark, Estonia, Finland, Germany, Netherlands, Norway, Poland, Russia, Sweden & Switzerland.
Members in other countries should first check up with their national AOPA to make use of the offer.
NCC-Light Template manual
IAOPA Europe is happy to finally make available a template for an NCC Operations Manual which is written from the ground up with the intent of fulfilling all relevant requirements in Part-NCC and Part-ORO in a simple way that is suitable for the very small NCC operator with maybe 2-3 persons involved in the flight operation.
Through an extensive use of references to relevant regulation and appendices the core Operations Manual is kept down to around 20 pages. Further, the most common variable items are all listed in the "Operator's Reference" section at the beginning of the manual. This should make the implementation quite an achievable task even for a small NCC operator.
The manual at this stage is not yet endorsed by any authorities and as such comes without any guarantees. It is provided free of charge, but if your organization finds it useful please consider a donation marked "NCC Light" to:
IAOPA Europe, Rabobank Roosendaal
Bank Account No.: 1843.98.789
Swiftcode: RABONL2U
IBAN: NL33RABO0184398789
For questions or comments, please contact the IAOPA Europe NCC Competency Team at iaopa@iaopa.eu
For larger corporate operators please refer to the more extensive NCC Ops manual that was previously released and can be found just below.
Template OPS manual for larger operators of Complex Aircraft
As of August 25'th 2016 all operators of complex aircraft in Europe will be required to comply with the new Part-NCC requirements. IAOPA has from the beginning worked to exclude particularly the very small operators from these requirements since they are not suited for a small organisation with maybe just one or two persons involved in the operation. Recently the EASA Committee has decided in favour of excluding turboprop aircraft with a MTOW of less than 5700kg. Operators of these aircraft will therefore NOT be required to submit a declaration and associated requirements for a management system and OPS manual.
For an overview of the requirements for operators of Non Complex Aircraft please consult the dedicated NCC page at the EASA website.
In order to assist those operators who are still subject to the new requirements IAOPA has together with EASA, national aviation authorities, ERAC and other Industry representatives worked to develop a template manual. This can be freely downloaded and modified by the operator. The template manual has been developed with a medium-sized NCC operator in mind. Work is still ongoing to also present a manual which is more tailored to the very small operator.
To download the template NCC manual please click here
Please note that you will have to work through the template and adjust so that it suits your operation. Also note that for a non-commercial operator your OPS manual does not have to be approved by your aviation autority. In fact you are not even required to submit it when you file your NCC declaration. However, you must have it available and be able to show compliance when you have an audit inspection from your authority.
The template manual is build on the principle that it includes more than what is required for most operators. It should therefore be possible to shorten it down considerably when you work your way through it and adapt it to your operation. Be sure to remove sections and procedures which do not apply to your operation so that the manual describes the way you actually operate. Otherwise you are making your first compliance audit harder than it needs to be.
The manuals are made available free of charge but financial contributions to support IAOPAs European activities will be much appreciated. Please contact iaopa@iaopa.eu for details.
EU Parliament adopts GA friendly resolution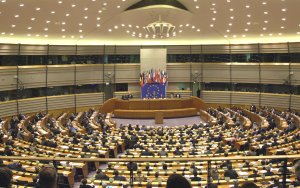 The European Parliament has given general aviation its biggest boost in modern times with the adoption of a resolution which guides the EC and member states to adopt a raft of principles which would preserve, foster and promote GA across Europe. Resolution 2008/2134(INI) sets out the importance of keeping legislation in proportion, recognising the differences between CAT and GA in setting fees and charges, ensuring that GA has access to airports and airspace and accepting that GA has a vital role to play in Europe's transport infrastructure.
The resolution, adopted by a huge margin - 524 votes in favour, 74 against and six abstentions - now forms the basis of the European Commission's approach to general aviation. The Commission is in turn the boss of EASA, which will find it very difficult to ignore the new landscape for GA. In addition, national AOPAs can now use it in negotiations with their own CAAs to ensure that GA is treated fairly.
The full document can be seen by clicking on this link. It includes 35 clauses, each of which represents a major breakthrough for GA, addressing nearly every major issue impacting on general aviation today; access to airfields and airspace, proportionality in regulation and charges and appropriate technology requirements. It calls on the EC to recognise the important role that GA plays in the training of professional pilots.
The resolution had its genesis in a meeting four years ago between European Aviation Commissioner Daniel Calleja di Crespo and a three-man IAOPA delegation at which the need for action on European legislation affecting GA was discussed. MEPs like Timothy Kirkhope from the UK and Arunas Degutis from Lithuania, both pilots, have been active in canvassing support. IAOPA is having the document translated into every European language and distributed to authorities across the continent.