Feb 08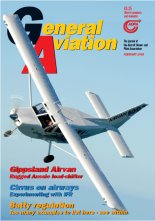 Cover
Page 5-15:
EC promises a better future for GA
Chief executive's diary
Money, safety and Shoreham Airport
BCPL threat to experienced instructors
Think it couldn't happen to you?
Breathing space for Lee-on-Solent
Shoreham's take on Lee
Redhill under threat - again
MWG moves on IMC, Wings and airfield reps
8.33 breakthrough
Free landing in a Citation
IAOPA World Assembly
Safeguarding small airfields
What the hell was that? Part II
Class Rating Instructor
Time to emigrate?
Page 16-17:
Page 18:
Page 19:
Page 20-21:
Lee on Solent the fight goes on
Page 22-26:
Page 27:
Page 28-31:
Page 32-33:
Page 34-35:
One-stop flight training shop
Page 36-40:
'A topping fighting two-seater'
Page 41:
Page 42: